Posted by Decker on November 13th, 2011
Next month, Brock Lesnar meets Alistair Overeem in what will be one of the biggest heavyweight collisions in UFC history. Many people are proclaiming that Overeem will easily win if it stays standing, and Lesnar will win if it goes to the ground. But here are ten reasons why Brock Lesnar will be victorious, regardless of where the fight goes.
1. Brock Lesnar won the eight-man, King of the Ring tournament in 2002; and two of the fights were even on the same night. In the eight-man Strikeforce Grand Prix, Overeem stopped after round one.
2. Did you know? Brock is a former NCAA Division I Champion.
3. Brock has defeated two Olympic Gold Medalists (Kurt Angle & Mark Henry).
4. In Overeem's last fight against a Light Heavyweight, he lost to Shogun Rua. In Lesnar's last fight against a Light Heavyweight, he beat Shannon Moore.
5. Brock has a record of 2-0-1 against The Undertaker.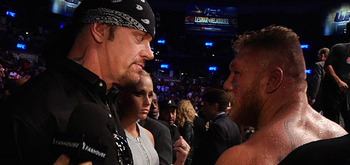 6. MMAMath: Lesnar beat Mir, who beat Antonio Nogueira, who beat Sergei Kharitonov, who beat Alistair Overeem.
7. Amount of former (major) World Heavyweight Champions that Overeem has beaten: 0. Amount that Lesnar has beaten: 17 (Frank Mir, Randy Couture, Jeff Hardy, Booker T, Rob Van Dam, Ric Flair, Mark Henry, Hulk Hogan, The Rock, Randy Orton, John Cena, The Undertaker, Eddie Guerrero, Big Show, Kurt Angle, Chris Benoit, Rey Mysterio).
8. In 2003, Brock Lesnar won the Royal Rumble, which means he outlasted 29 other superstars on one night.
9. Brock has a hotter girl to get on top of.
10. Lesnar's F5 has finished off more opponents than Overeem's Uberknees.